Home
>
News
> State Rep Mitch Bolinsky Awarded State "Clean Elections" Grant for November 2018 Re-Election Bid
State Rep Mitch Bolinsky Awarded State "Clean Elections" Grant for November 2018 Re-Election Bid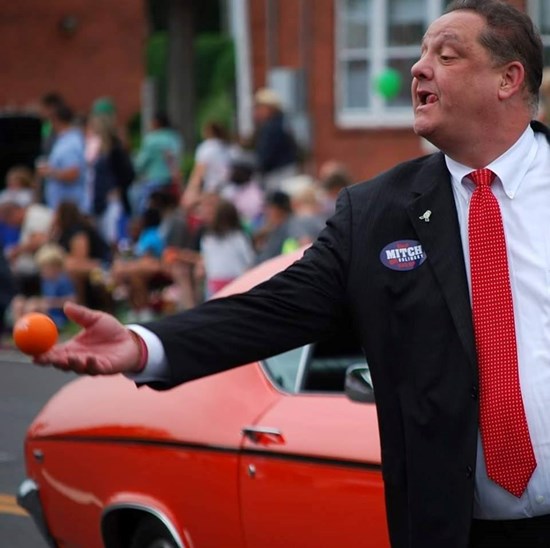 Rep. Bolinsky tossing a signature "stress ball" at 2016 Labor Day Parade
______________________________________________
NEWTOWN, August 10, 2018 – The re-election campaign of Newtown's State Rep. Mitch Bolinsky received first review approval of its "Clean Elections" Grant Application at the August 8, 2018 meeting of the State Elections Enforcement Commission (SEEC).
Bolinsky said, "It's great to qualify right out of the box and max-out our grant. I'm thankful for all our local support and encouragement. With the Citizen's Election Program
(CIP), I take a pledge to abide by the strict rules and limitations of public financing. Our fundraising is exclusively 'grass roots', small contributions from members of our community. No taxpayer money is used for CIP grants and we accepted no contributions from corporations, union, PACs or special interests.
It's important for the people I serve to know my only interest is the best interests of the people of Newtown. I'm proud my base is 100% local and we, unlike others, didn't seek out-of-state contributions."
"With this hurdle cleared, we'll focus our energies on meeting more voters and knocking on doors. So far, folks have been happy to see me, welcoming and eager to share their concerns and hopes for a better Connecticut. Every day, people ask for a CT revival...a sustainable comeback. We all want a Connecticut we can again depend on for greater opportunity and freedom from fiscal uncertainty, rising taxes and the turbulence of the Malloy years' deficit spending. Our state needs to correct 30-years of undisciplined spending and borrowing with no accountability. It's time to end this insatiable appetite for more and more taxes and now, tolls.
"Newtown residents want to turn our state around, restore its solvency and restore affordability. They know that, by spending more than it can afford, Hartford's career politicians spin deficits and then, status quo is to raise taxes. For eight-years, this has driven residents, employers and jobs out of state. I say 'Enough! Connecticut's worth saving and now is the time!"
"From parents to students to young people entering the job market; from working men and women to seniors facing the cost of aging in place on fixed incomes; the state's economic problems impact us all. I love speaking to folks about putting Connecticut on a positive path and moving it ahead with structural reforms to make our state a place people want to live, learn, work and play.
Imagine a more efficient Connecticut working for us and investing in an economic turnaround that stabilizes our finances and reduces our cost of living. We can do it - but only if we reject the 'Hartford tax & spend yes-men & women' and their rising taxes."
Bolinsky concluded, "I care deeply about Newtown and every individual I represent. Voters know I thrive on a daily and lifelong dedication to caring and doing good. As Newtown's 3-term State Rep, I am humbled my support crosses party lines and includes so many unaffiliated voters. I have a record of getting things done for our community. Voters seem to notice that."